WHY JOIN A LIFE GROUP?
Life Groups exist for Christ-Centered life change and meaningful relationships. To join a Life Group is to take a next step in growing in your relationship with Jesus. It is the best next step that you can take ​in following Jesus because He always calls his followers into community.
What will happen in my life if I join?
Caring:
A place to be cared and prayed for and developmeaningful relationships
Teaching:
Growth in understanding how to apply God's wordto​everyday life
Leading:
Being led to be on mission by intentionally loving others well
HOW DO I KNOW IF I'M READY?
Joining a Life Group will cost you time, energy, and vulnerability. By ​joining a Life Group you are committing to attend consistently, invest in relationships with those in the group, and be accountable to leadership.
Find a Group
Intergenerational: Mondays 7-9 PM 
Intergenerational: Tuesdays 7-9 PM 
Seniors: Tuesdays 12-2 PM 
55+: Thursdays 7-9 PM 
Intergenerational: Tuesdays 7-9 PM 
Intergenerational: Saturdays 8-10 AM
Young kids: Sundays 3-5 PM 
Young kids: Sundays 4-5:30 PM 
Adolescent kids: Mondays 6:30-8:30 PM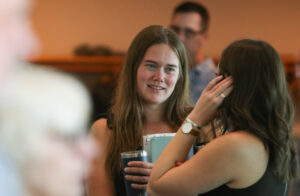 Young adults: Tuesdays 6:30-8:30 PM
Seniors: Wednesdays 7-9 PM 
Seniors: Thursdays 1-3 PM 
Request Info
Find a group that fits your needs and fill out the request form.
Please note the type and meeting day/time in your message.